SR-1000V
Details

Category: Veterinary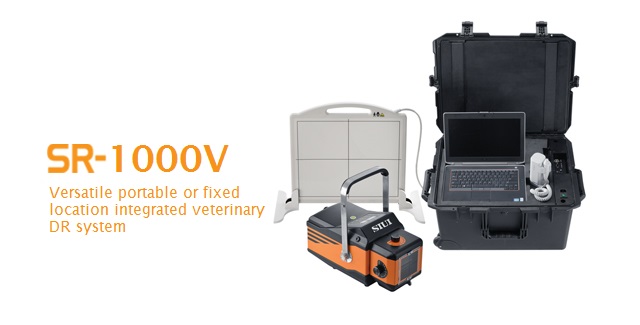 Ultrasound Range
The models shown are selected for the Australian and New Zealand markets.
Other models in the extensive SIUI range are available on application.
X-Ray Transmitter
-Built-in battery power supply and wireless transmission release the X-ray from the laboratory. You can delivery the examination in the emergency rooms, operation rooms and fields
-Beam Limiting Device is equipped with LED to largely save energy as well as provide the brightest guide.
-Laser indicator provides you a best distance and exposure area central.
-High precision exposure parameter control ensures image clarity and sharpness.
-Efficient self-failure protection and self-diagnosis is convenient for service.
X-Ray Detector
-System effective imaging area: 346mm×420mm
-Acquisition pixel A/D conversion: 14 bits
-Spatial resolution: 3.3 lp/mm
-Digital image processing time: less than 5s
-Image output format: DICOM, BMP, JPG or TIF
Acquisition Software
-User-friendly operation interface
-Positive/negative inversion, image inversion and rotation, zoom, trim, image magnifier
-Multiple image formats for display and conversion
-Practical report template, with one or more images inserted as required
-Mini PACS system
COMPONENT

SPECIFICATION AND DESCRIPTION

 
Power Supply: Built in battery or AC input
 X-Ray Generator     
Power: 2.0kW
Output tube voltage: 40kV-100kV
Output tube current: 25mA (40kV-60kV); 20mA (61kV-100kV)
Current time product: 0.4-50mAs 22 steps
Working Frequency 

≥ 50 kHz

Focal spot size: 1.2mm
Total Filtration 3mm Al Collimator included
Collimator: Continuous with Centre + Indicator
Dimensions: (LxWxH) 522mm x 227mm x 217mm
Weight: 12kg
X-Ray Flat Panel    
iRay Venu 1417P Amorphous Silicon; Conversion screen GOS
Configuration: 14" x 17", spatial resolution 3.3 lp/mm
Pixel matrix 2304 x 2800
Image acquisition time within 5 seconds
Dimension 498 x 490 x 20mm
Weight 4.5kg

Digital Image Acquisition Software PIE - 5V  

Simple user interface
Multi region of interest image enhancement functions
Vertebral Scale System (VSS) to measure canine and feline heart size
Practical report template , with one or more images inserted as required
Mini PACS for patient history and diagnosis management

Image Acquisition Workstation

Laptop(2.4G dual-core CPU / 4G RAM / 320G hard disk NVIDIA graphics / 1366*768 pixel)

Carry case