CTS 800
Details

Category: Veterinary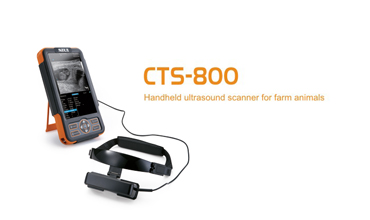 Ultrasound Range
The models shown are selected for the Australian and New Zealand markets.
Other models in the extensive SIUI range are available on application.
Monitor: 7-inch WVGA LCD monitor
Weight: 0.8kg
Environmental rating: IP54 (main unit), IP67 (probe head)
Battery: 3 hours operation time
Display mode: B, 2B, ZOOM B, B/M, M
Depth: Max to 250mm
B gain: 0-100
Image storage: 256 frames
Cine loop: 256 frames
Probe: L50/7.5 MHz linear rectal probe (standard)
L65/5.0 MHz linear rectal probe (optional)
R20/5.0 MHz micro convex probe (optional)
Gravity Sensor: You can operate the ultrasound system either in transversal layout or vertical layout. It can automatically adapt to two different layouts when you rotate it.
Grid for estimation: With grid on the image area, you can easily estimate the size of the target substance like follicle, fertilised egg, etc.
Carry Case
Video Glasses (optional)
Backfat probe