Apogee 2300V
Details

Category: Veterinary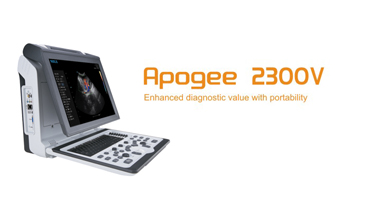 Ultrasound Range
The models shown are selected for the Australian and New Zealand markets.
Other models in the extensive SIUI range are available on application.
The Apogee 2300V is the newest model in SIUI's veterinary series and is a portable colour Doppler with enhanced diagnostic value.
XBeam: The system is able to multiply receive and process scanning lines of images from each element, which largely increases the frame rate of images in B mode and 4D mode.MFI: By reducing signal distortion and eliminating unwanted noises, it renders premium images with outstanding resolution, high contrast and enhanced penetration.
VS-Flow: Basing on MicroFlow, VS-Flow significantly upgrades the sensitivity and resolution of blood flow, which helps doctors to maximise the clinical application value.
User preferred design: 15-inch LCD monitor with tilting angle, user-orientated control panel, dual probe connectors, replaceable Li-ion battery
TDI: TDI helps to assess the directional and temporal phase of cardiac, so as to display the movement state of myocardium and the movement speed of heart.
Auto IMT measurement: The system automatically helps measure the Intima-Media Thickness of the carotid artery wall, so as to evaluate cardiovascular disease such as hypertension diabetes.
Panoscope: Extending wider view for doctors to scan large area tissue, the exclusive LIVE panoramic imaging also allows doctors to monitor the scanning quality via simultaneous display of B mode/ Panoramic mode.