Apogee 5800
Details

Category: Color Doppler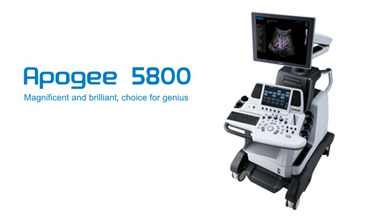 Ultrasound Range
The models shown are selected for the Australian and New Zealand markets.
Other models in the extensive SIUI range are available on application.
With the brand-new intelligent image processing platform Smartech Engine Apogee 5800 is in full gear. Equipped with extended physic channels it offers more detailed image signal and higher image density by using high element density probes. Exclusive technology is applied to offer superb image resolution exceptional image penetration advanced flow sensibility and improved S/N ratio. While professional clinical solutions guarantee perfect clinical performance. According to assessment comprehensive performance is improved by about 70%.
Balanced echo compensation
The technology recognizes and enhances the effective signals as well as reduces noise beyond boundaries which significantly improves the tissue uniformity and S/N ratio.
Nanopure & Nanoview
Two kinds of speckle reduction technology are ready to use according to different tissue. The newly developed Nanopure technology has remarkable performance in scanning cardiovascular MSK and superficial organs while Nanoview keeps its advantage in abdomen and OBG image optimization.
Fuzzy logic flow
Fuzzy logic algorithm is applied to set each key parameter in specific range. Different parameter weight is designed according to targeted tissue so as to furthest restore flow signal enhance flow sensitivity and reduce wall motion noise.
Crystal purity probe
Apogee 5800 incorporates SIUI's new generation crystal purity probe. Application of single crystal material brings about a huge leap of 110% in bandwidth which facilitates the probe performance on patients even in difficult model and significantly boosts diagnostic confidence.
High element density probe
The higher element density probes employed in this system have demonstrable advantages in image density resolution and information.
Auto SG
SIUI Auto SG provides fully automated and reproducible results that allow clinicians to analyze and monitor subclinical changes over time. Detailed analysis of myocardial velocity displacement segmental wall motion score and strain rate can be performed at the same time.
Auto EF
SIUI Auto EF (Ejection Fraction) is a fully automatic measurement tool used to measure the Left Ventricle global Ejection Fraction. It is an optional decision supporting tool for clinicians in daily cardiac function evaluations.
Needle enhancement
The system adjusts the angle of transmitted beams to track the needle and keep vertical with it. It increases the needle visibility and enhances the needle tip so as to offer the reliability and confidence to the clinicians.
Lumi 4D
Lumi 4D is an image rendering processing technology to present more lifelike 4D image with higher resolution. Utilizing light source with adjustable angle and position and the shadow therefore makes the image a much stronger three-dimensional sense.