CTS 8800 Plus Color
Details

Category: Color Doppler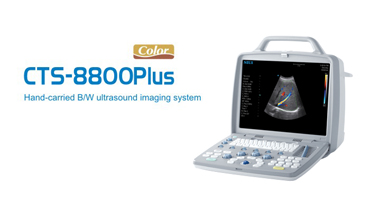 Overview
Built on the affordable and popular CTS-8800 Plus platform, the attractively priced CTS-8800 Plus Color model is empowered with a 15-inch medical LCD, enhanced B/W images and a color package with B,2B, 4B, B/M, THI (Tissue Harmonic Imaging), CFM (Color Flow Mapping), B/C, PW (Pulse Wave Doppler), CPA (Color Power Angiography), DPA(Doppler Power Angiography), B+CFM, B+CPA, B+DPA, B+CFM+PW, B+CPA+PW
Advanced imaging technology 
The technology helps to ease echo artifacts and improve spatial resolution by scanning the target with multi-direction beamforming.
Spatial compound imaging
Speckle reduction technology
The technology assists to reduce noise and artifacts, purify tissue shading and edging, improve contrast resolution and identify of early tissue/structure lesion.
Versatile 4D Capability
The CTS-8800Plus offers excellent 4D imaging at an amazingly attractive price.
 Volumetric imaging technology covers obstetrics 4D fetus imaging and gynaecology transvaginal volumetric imaging, all of which show more accurate and specific images for different clinical demands.
Wireless image transmission
The system offers doctor's mobile working in hospitals and clinics by realizing on-scan images via an iPad/iPhone or wireless printer even if the doctor is away from the ultrasound system.
Color Doppler upgradeability
The system can support upgrades of optional color flow mapping, pulse wave Doppler and triplex mode as well, which makes this an ideal color Doppler ultrasound system at an economical entry level.