Apogee 5800
Details

Category: Color Doppler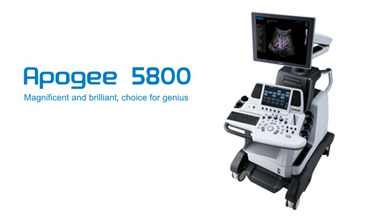 Designed for general practice, the Apogee 5800 with it's premium images and innovative technology is the flagship model in SIUI's new model series
Premium image quality shared services ultrasound. Market orientation - radiologists, clinics and hospitals
Quad-core processing
All-in-one solution
Comprehensive diagnosis tools guarantee different clinical practice
Simplified and intuitive operation
Integrated with ULTRACLOUD, it offers intelligent solutions to facilitate the diagnostic experience
Radiology
2D image quality is dramatically enhanced by MFI (Macro Fidelity). Easily, doctors can obtain a clearer image of the area of interest. 
Based on MicroFlow, VS-Flow significantly upgrades the sensitivity and resolution of blood flow, which helps doctors to maximize the clinical application value. 
 By emitting ultrasonic beams from different angles, XBeam reduces the dependence from receiving angles to create images without compromise.
By reducing noises and artifacts, Nanoview is able to present tiny lesions in soften images with distinct tissues and enhanced edge, helping to offer reliable diagnostic results.
OB/GYN
Opti-4D
A quick 4D optimization tool helps to obtain an ideal 4D image.
 NSlice
Q-Cut
Application of 4D endocavity probe
4D endocavity probe helps to capture the complete and detailed volume data of the area of interest. Accurate diagnostic information of Endometrium can be obtained easily by reviewed from coronal, transverse and sagittal sections.
Elastography
More and more women suffer from high risk of mammary diseases. Early diagnosis for prevention and warning means a great deal for women's health. Equipped with advanced Elastography, Apogee 5800 contributes to safe and accurate assessment of mammary diseases.
Cardiovascular
Auto IMT
Auto IMT allows automatic measurement of Intima-Media Thickness, so as to detect cranial vascular disease in advance.
Continuous Wave Doppler
Continuous wave Doppler detects the abnormal cardiac high-speed blood flow with quantitative measurement.
TDI (Tissue Doppler Imaging)
Simpson Auto Tracing
With 3-point fix the measurement saves your time and effort to obtain cardiac function information by automatically tracing the endocardium (fine-tuning available).
PISA
PISA serves as an important basis for regurgitation severity assessment. With PISA, Apogee 1000 easily calculates regurgitation flow caused by cardiac valve disease, which provides significant evidence for clinical diagnosis.
ULTRACLOUD solution
Cloud Diagnosis
When meeting with complicated cases, doctors can seek professional advice from appointed experts through CLOUD DIAGNOSIS by Ultracloud.