Apogee 5300
Details

Category: Color Doppler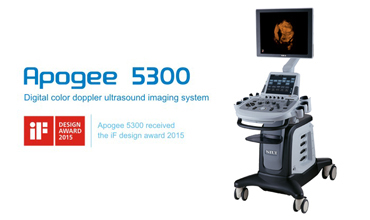 The SIUI Apogee 5300 is a fantastic compact mid range 'shared services' ultrasound scanner offering outstanding value for money with excellent performance in general imaging and cardiology with a full specification including many high end features such as 4D imaging. Flexibly configured to your requirements the SIUI Apogee 5300 manages high performance ultrasound imaging whilst looking after your budget. The system is suited to a wide range of applications including:
Cardiology
Vascular
Abdominal
Obs/Gynae
Urology
Small parts and superficial
Musculoskeletal
Innovative imaging technology boosts your diagnosis confidence.
By reducing signal distortion and eliminating unwanted noises, MFI renders premium images with outstanding resolution, high contrast and enhanced penetration. 
The system is able to multiply receive and process scanning lines of images from each element, XBeam largely increases the frame rate of images in B mode and 4D mode.
Nanoview
The technology aims at reducing noise and artifacts, purifying tissue shading and edging, improving contrast resolution and helping early identification of tissue/structure lesion.
FusionFreq
The system has ability to scan the target by multi-direction beamforming thus easing echo artifacts and improving spatial resolution.
Fusion Tissue Harmonic (Fusion THI)
Real-time fusing the information from different frequency bands, Fusion THI implements the broadband transmission and reception of harmonic waves. With enhanced image resolution and penetration, the system will help to boost your diagnostic confidence.
Auto-Fit
The system can automatically track, identify and enhance useful tissue-characteristic information, as a result of reducing noise and artifacts, purifying tissue shading and edging, improving contrast resolution and helping early identification of tissue/structure lesion.
4D Pro (Optional)
New 4D imaging tools contribute to lifelike images and more reliable diagnosis.
nSlice: Presenting multi-sections of the 4D object from different angles by rotating to find the needed section quickly. Diagnostic accuracy is improved by adjusting the thickness and angle of the section, so as to observe the shape, size and surroundings of the target area more clearly
NOIMAGES
NOIMAGESDEBUG http://ultramedix.com.au/images/ultramedix/SIUI_Clinical_Images/Apogee_5300_Touch/Functions/NSLICE
Q-Cut: By trimming the irregular images to present the target area more clearly, greatly improves diagnostic efficiency.
Opti-4D
A quick 4D optimization tool helps to obtain an ideal 4D image.
Smart Elastography for breast exams (Optional)
The system supports linear probes with elastography images to visualize the stiffness of tissues in real time by delivering an external compression on the tissues. With the smart Elastography developed by SIUI, the doctors can feel more convinced in early detection of breast cancer.
Panoscope (Optional)
Extending wider view for doctors to scan large area tissue, the exclusive LIVE panoramic imaging also allows doctors to monitor the scanning quality via simultaneous display of B mode/ Panoramic mode. In addition, when operating this function, the doctor can erase the previous image area and continue to generate better panoramic imaging.
Click on images to enlarge