Details

Category: B/W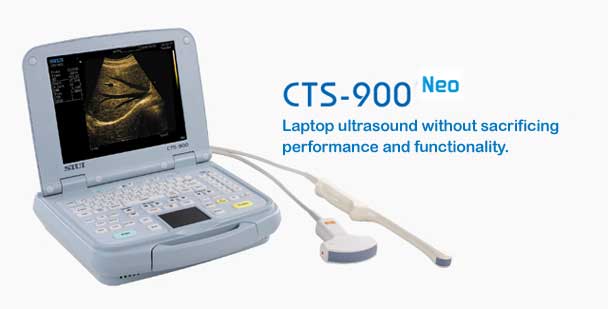 New generation design laptop B/W ultrasound system
The CTS-900 Neo is the successor to the popular CTS-900 with wider bandwidth, 

an extended dynamic range and smoother images with crystal clear quality 
Supporting maximum 12 MHz broadband linear array probe
10.4 inch 1024x768 high resolution LCD display monitor
Built in battery for 2 hours operation
Only 3.4 kg
Ideal for small clinics, Ob/Gyn and as a physiotherapy RTUS
Distortion-free Live Zoom
Ensures real time zoom imaging quality based on a unique data processing technique
IP One-key Optimization
One key for eight groups of optimization parameter adjustment and each optimization group has up to 14 parameters
that are adjustable for easy to achieve optimized images.
Auto Free
Time can be set to freeze probes automatically, extending service life of probes effectively.
Flexible Storage Media Option
Storage Media: Hard disk, USB disk and DICOM
Storage Formats: BMP, JPG, AVI and CIN
Auto Creation of Document Report
Off-line Diagnostic Function
File and Edit of Patient Information
Wide Angle Convex Probe
The angle can be adjusted when scanning, which is intuitive and easy to use.
Details

Category: B/W
- Inherited from the outstanding image quality of CTS-7700


- New generation of B/W ultrasound 


- Powerful clinical performance ultrasound system


- 12-inch medical LCD compact design


- Optional built-in lithium battery
Panoramic imaging
The system extends wider views to doctors, allowing large areas of tissue to be visualized with sliding movements of the transducer.
PWD upgradeability
The system optionally includes pulse wave Doppler for vascular and cardiology quantitative analysis.
Color flow Doppler upgradeability
The system can support upgrades of color flow mapping and triplex mode as well, which make itself a complete color
Doppler ultrasound system ideal for users at an economical entry level.
Wireless image transmission
The system offers doctor's mobile working in hospitals and clinics by realizing on-scan images via an iPad/iPhone
or wireless printer even if the doctor is away from the ultrasound system.
NOIMAGES
NOIMAGESDEBUG http://ultramedix.com.au/images/ultramedix/SIUI_Clinical_Images/CTS_7700Plus_Clinical